Medium:
Television
Fandom:
White Collar
Subject:
Neal Caffrey, with most of the other characters poking their heads in too
Title:
The Wild Boy
Notes:
*waves* My first post here at this community, and the first fanmix for public consumption that I've made in a long, long time. White Collar has quickly become a new obsession, however, and the first two seasons somehow ended up amassing songs on my iPod, which
led to this mix. So I guess you could call this a vague description of the two seasons, set to a bit of a rock soundtrack. Spoilers inside. And please forgive my cover art...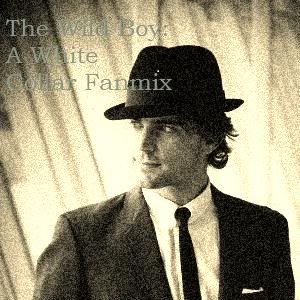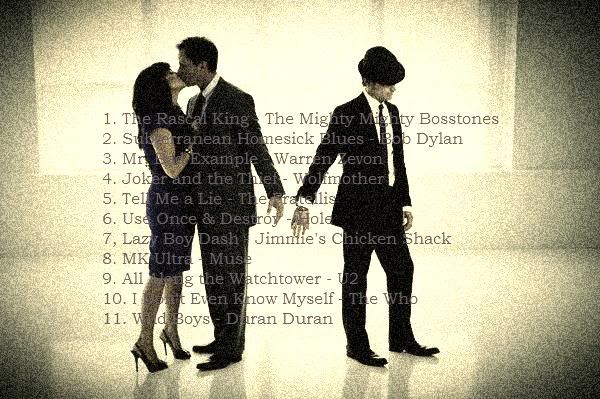 Meet Neal Caffrey, young, bright-eyed, and ready to take on the world.
The Rascal King, The Mighty Mighty Bosstones (Neal)
Well he was fueled by a lack
Drew inspiration from a need
So many problems to crack
And mouths to feed
Crooked was the path
And brazen was the walk
A cocky swagger, up the ladder
And could he ever talk…
…A legendary character
When?
Only then
Where?
Only there
A hero or a hooligan?
Well, that part's never clear
Pride or shame, it's all the same
Who's innocent and who's to blame?
Politics or just a game?
Well in the end they knew his name
Of course, the new kid in town needs some help, even if that help is a little paranoid…
Subterranean Homesick Blues, Bob Dylan (Mozzie)
Johnny's in the basement
Mixing up the medicine
I'm on the pavement
Thinking about the government
The man in the trench coat
Badge out, laid off
Says he's got a bad cough
Wants to get it paid off
Look out kid
It's somethin' you did
God knows when
But you're doin' it again
You better duck down the alley way…
The world of a con man isn't just fancy parties and high-class forgeries, however. There are more than a few bastards in the business. Vincent Adler and Matthew Keller, I'm looking at you.
Mr. Bad Example, Warren Zevon (Adler and Keller)
I'm very well aquainted with the seven deadly sins
I keep a busy schedule trying to fit them in
I'm proud to be a glutton, and I don't have time for sloth
I'm greedy, and I'm angry, and I don't care who I cross
I'm Mr. Bad Example, intruder in the dirt
I like to have a good time, and I don't care who gets hurt
I'm Mr. Bad Example, take a look at me
I'll live to be a hundred, and go down in infamy
Careful, Neal, someone's always watching…enter Peter Burke.
Joker and the Thief, Wolfmother (Peter's years-long chase)
I said the joker is a wanted man
he makes his way all across the land
see him sifting through the sand
So I'll tell you all the story
'bout the joker and the thief in the night
He's always laughing in the midst of power
are we living in the final hour
there is always sweet in sour
So, we are not goin' home
Can you see the joker flying over
as she's standing in a field of clover
watching out everyday
I wonder what would happen if he took her away
And unfortunately, inevitably, Neal was going to get caught. It may have only been on bond forgery, but it's enough to saddle him with a prison sentence.
Tell Me a Lie, The Fratellis (Neal)
Well once I was peruaded to open up my head
I told them how it was and went and got it wrong instead
I said would you believe me if you only knew
I'd been stealing everything this conversations through…
…So I told them all I could about what could they expect
But I lost my sense of smell and I gained myself respect
They told me I was curious I told them they were slow
They asked me where I get this stuff I told them I don't know
Even though they called it stupid, questioned why and why now, Kate was worth breaking out of jail for. Something was rotten, and Neal was determined to find out what it was.
Use Once & Destroy, Hole (Neal, about Kate)
It's the emptiness that's all you have left
Too terrified of your frozen breath
It's a bitter mouth it's burned and knived
It's the awful truth you fight for your life…
…I went down to rescue you
I went all the way down
Fill your hungry wretched life
Here they come it's closing time…
…Ooh, I will follow you
Anytime, anywhere
Ooh, I will come for you
Just say you aren't there
Time to make a deal. Which results in "I own you for the next four years."
Lazy Boy Dash, Jimmie's Chicken Shack (Peter, to Neal)
Son you better get up
You better get up while you can
I make a dash in the lazy boy hundred
I start out slow but i lean back and pull you under it
They say the competition lags behind precision wasting
Don't need a rear view
I know it's my smoke they are tasting
She's gone.
MK Ultra, Muse (Neal, post-Kate)
Invisible to all
The mind becomes a wall
All of history deleted with one stroke
How much deception can you take
How many lies will you create
How much longer until you break
Your mind's about to fall
And they are breaking through
they are breaking through
they are breaking through
Now we're falling
We are losing control
Neal and Peter getting out there, ready to take on the world and take down Fowler, then Adler. But there's always someone waiting in the wings to make sure they get back safe and sound. This one's for Elizabeth.
All Along the Watchtower, U2 (cover) (Elizabeth)
"No reason to get excited,"
The thief, he kindly spoke.
"There are many here among us
Who think that life is but a joke
But you and I, we've been through that
And that is not our fate
So let us not talk falsely now
Because the hour is getting late."
All along the watchtower
Princess kept the view
While all the women came and went
Barefoot servants too
For Neal, the temptation to slide back into his old ways is a constant one. The thought that he could have it all again is a potent one…but he's not even sure what he wants anymore.
I Don't Even Know Myself, The Who (Neal)
There's nothing in the way I walk that could tell you where I'm going,
There's nothing in the words I speak that can betray anything I'm knowing,
Don't think about the way I dress, you can fit me on a labelled shelf,
Don't pretend that you know me 'cause I don't even know myself,
Ooh I don't know myself…
…I don't mind if you try once in a while,
I don't mind if I cry once in a while,
The doors aren't shut as tight as they might seem,
I'm just trying to fight my way out of this dream.
Do you remember me, I don't remember you,
Do you still love me, you know I think you do,
I have been gone, and some prison warden knows my scream,
I'm just trying to fight my way out of this dream.
No matter what happens, though, he'll figure it out. He's Neal Caffrey, after all.
Wild Boys, Duran Duran (Neal)
The wild boys are calling on their way back from the fire
In august moon's surrender to a dust cloud on the rise
Wild boys fallen far from glory
Reckless and so hungered on the razors edge you trail
Because there's murder by the roadside and this so afraid new world
They tried to break us, looks like they'll try again
Wild boys never lose it
Wild boys never chose this way
Wild boys never close your eyes
Wild boys always ......... shine
Mix found here:
hxxp://www.megaupload.com/?d=5T9WXQMF
(change 'xx' to 'tt'). All files are mp3. Comments would be greatly loved. :) If you'd like any individual files or something uploaded to a different service, let me know.
Thanks for looking!
I'm subjecting you here to my first attempt at a fanmix for a shiny new show that I've fallen in love with. If this works well, then I'm totally going to get the Mysterious Ways fanmix up and going as well. So following the guidelines set out by the fanmix community, here goes:
Current Mood:

determined

Current Music:

Top Gear, series 2